THE BENTAYGA RANGE
The Bentley Bentayga is designed to inspire exploration in its purest form.
Its commanding design comes together with a suite of innovative technology, to create a vehicle that excels everywhere, from city streets to the open road and beyond. No other SUV delivers such an accomplished fusion of comfort, capability and exhilaration behind the wheel.
There are four models to choose from. Bentayga Speed* delivers the ultimate in SUV performance. New Bentayga S reflects a bold attitude, thanks to striking design and a sporting drive, while Bentayga V8 delivers the perfect balance of performance, comfort and luxury. The innovative Bentayga Hybrid, meanwhile, offers a plug-in hybrid powertrain for zero and low-emission driving.
*Bentayga Speed is available to order in all markets, except EU27, Switzerland, Israel, Ukraine, Norway, Turkey, Vietnam, India or South Korea.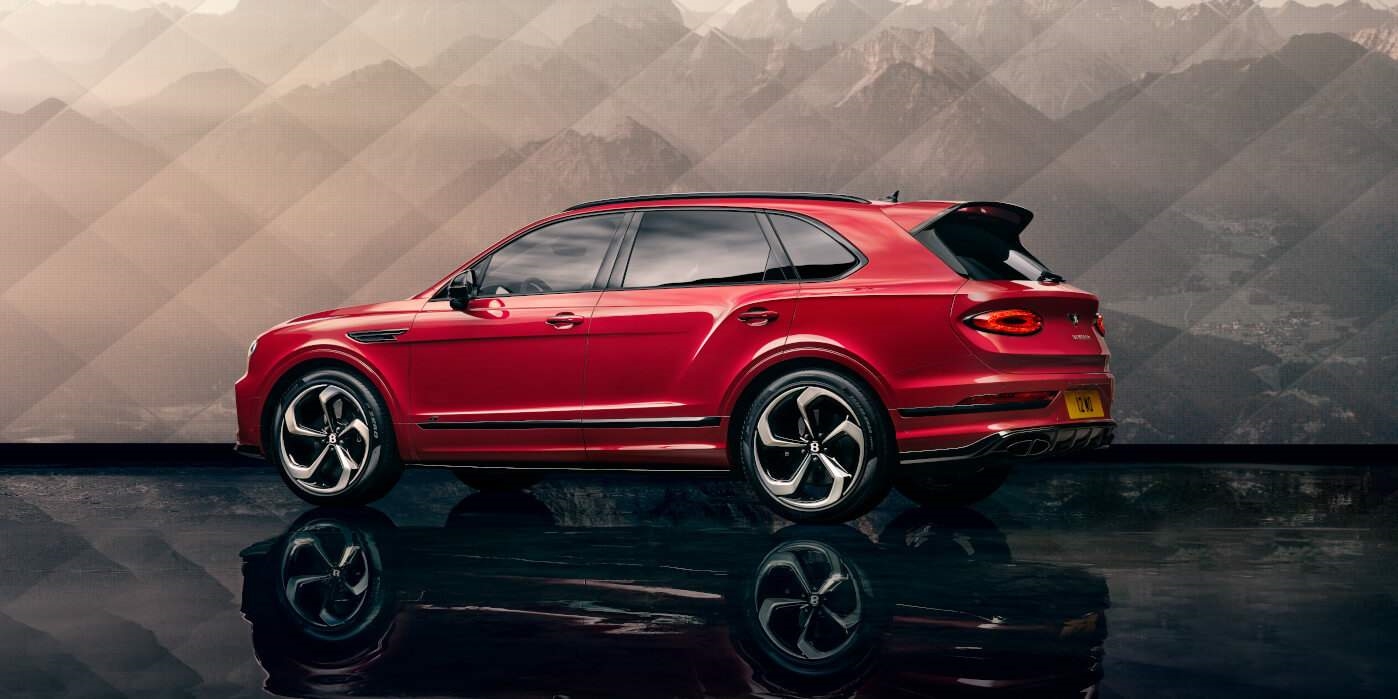 DESIGN
A STUNNING VISUAL STATEMENT
The Bentley Bentayga exudes road presence. Viewed from head-on, the bonnet sweeps down to LED matrix headlamps with an intricate 'crystal cut' design. Together with a wide, imposing Bentley matrix grille, the sculpted front bumper hints at the vehicle's performance credentials.
A large wing vent and sleek sills add detail to a streamlined profile. At the rear, jewelled 3D tail-lamps are contained within a broad, cleanly designed tailgate. The V8 and Hybrid models both include elegant 21" wheels as standard, while Bentayga S and Bentayga Speed each feature their own imposing 22" wheel designs.
Inside, a 10.9" touchscreen takes centre stage. Together with a digital driver's information panel, it ensures a perfect blend of technology and craftsmanship. The optional four-seat configuration provides a cossetting environment in which to travel, for both work and leisure.



PERFORMANCE
UNRELENTING PERFORMANCE
Bentayga V8 and Bentayga S deliver a truly thrilling drive, reaching 0 to 60 mph in just 4.4 seconds (0 to 100 km/h in 4.5 seconds). They can continue accelerating effortlessly, up to a top speed of 180 mph (290 km/h) – all to the tune of a glorious V8 roar. With the addition of the Sports Exhaust – included as standard on Bentayga S – this incredible sound can be enhanced even further.
For those seeking even more power, a 6.0 litre W12 engine empowers Bentayga Speed to reach speeds unseen on any other luxury SUV. It achieves 0-60 mph in just 3.8 seconds (0 to 100 km/h in 3.9 seconds) and a top speed of 190 mph (306 km/h)*.
Bentayga Hybrid is driven by an intelligent combination of electric motor and 3.0 litre V6 petrol engine. Together, they can propel you to a top speed of 158 mph (254 km/h), achieving 0 to 60 mph in just 5.2 seconds (0 to 100 km/h in 5.5 seconds).
*With optional carbon brakes
DYNAMIC DRIVING WITHOUT COMPROMISE
Bentayga Speed and new Bentayga S are equipped with Bentley Dynamic Ride – a groundbreaking active anti-roll system. This innovative feature uses a 48 volt electric motor to minimise body roll when the car is cornering, so you feel in complete control at all times – even when cornering at speed. Yet by relaxing its grip at other times, it also allows for a comfortable ride during regular daily driving. The result is a truly thrilling driving experience: a refined SUV with the handling of a high-performance sports car and the comfort of a luxury grand tourer.
ADVANCED AND INTUITIVE
The All-Terrain Specification adds four additional drive modes, called responsive off-road settings, to the four standard on-road drive modes. These cover virtually every terrain on which the Bentayga is likely to be driven: Snow and Wet Grass, Dirt and Gravel, Mud and Trail, and Sand. The driver simply selects the most appropriate mode for the terrain and, automatically, all relevant vehicle systems are optimised. If applicable, specific off-road systems – such as Hill Descent Control – are also activated, working together to provide you with absolute control and confidence.
In addition to the responsive off-road settings, the All-Terrain Specification includes additional, robust underfloor protection, along with a specific screen on the infotainment system that displays useful information, and a luggage management system to ensure items in the boot are safely secured, even when traversing a sand dune.


TECHNOLOGY THAT ENHANCES EVERY DRIVE
Intuitive entertainment
Behind the new crystal-clear digital displays lies the latest infotainment system, bringing configurable, dynamic graphics, seamless connectivity and innovative features. These include wireless Apple CarPlay* and Android Auto, plus an all-new navigation system that includes satellite maps. There is an extensive range of media inputs, including two Type-C connectivity points and digital TV.
Rear seat entertainment
For a truly immersive media experience, the optional Bentley Rear Entertainment system adds two high-definition 10.1" touchscreens to the rear of the cabin. Passengers can stream content straight from their personal device to the screens, using either the car's in-built Wi-Fi or their own mobile hotspot. An HDMI port also allows devices such as game consoles to be connected, while Bluetooth and an auxiliary jack allow you to connect both wired and wireless headphones to the system. Alternatively, for a full immersive experience, the audio can be played through the car's impressive sound system.
My Bentley Services not available in all markets. Please contact your local dealer for availability.
*Apple CarPlay and iPhone are registered trademarks of Apple Inc.
SAFE, SMART AND CONVENIENT
The Bentayga range features the latest My Bentley* Connected Services, with an embedded SIM that makes access to the in-car features much simpler. In addition to new services, including online radio and over-the-air map updates, the connection to the outside world enhances a number of infotainment features. For example, access to intelligent online databases improves natural speech recognition and ensures the Traffic Sign Recognition tool reflects live, changing road conditions.
Meanwhile, the My Bentley* app provides access to a full suite of innovative services, including remote car finder, remote vehicle locking and unlocking.
For ultimate convenience, a wireless smartphone charger is included as standard and up to six USB Type-C charging points ensure both driver and passengers can easily stay connected.
*My Bentley Services not available in all markets. Contact your local dealer for availability.
DRIVER ASSISTANCE
A comprehensive suite of driver assistance features is available to help you when required.
Adaptive Cruise Control takes the effort out of highway driving, allowing you to take your foot off the accelerator pedal while the car maintains a pre-programmed speed. If the traffic in front slows down, your Bentayga will slow down too, to maintain a safe distance. In congested traffic, it will even stop and move forward automatically, when necessary to keep pace with the motion of the vehicles in front.
A lane detection system will warn you if you drift out of your lane, providing haptic feedback through the steering wheel. It can even correct your course for you. Blind spot monitoring enables you to overtake with confidence – and when you leave the highway, traffic sign recognition means your Bentayga can alert you to changes in the speed limit.
Equipped with Bentley's City Specification as standard, every Bentayga includes more assistive features, created specifically for urban driving. From autonomous parking to systems that alert you to potential obstacles while reversing, each one is designed to give you extra peace of mind.
PERSONALISED BY YOU

A WHOLE WORLD OF OPTIONS
Bentayga can be commissioned to match your exact requirements. If you want to explore our options even further, the Mulliner team will provide bespoke modifications to create a truly unique vehicle.

STATEMENT EXTERIORS
The distinctive exterior makes a bold statement by itself – and it can be further emphasised by the numerous personalisation options available to you.
Seven paint colours are available as standard on Bentayga V8, Bentayga S and Bentayga Hybrid, increasing to 17 with Bentayga Speed. You can also choose from two additions to the range: Cambrian Grey, a solid grey suggestive of performance and the striking Snow Quartz Pearlescent. You can explore these colours further with the Bentley configurator.
You can now also protect your Bentayga's exterior from minor stone chips and scratches with the newly available Paint Protection Film, for more information contact Bentley Pittsburgh.
DRAMATIC STYLE WITH BLACKLINE SPECIFICATION
Included as standard on new Bentayga S and optional for all other models, the Blackline Specification dramatically changes Bentayga's character. All the exterior brightware – with the exception of the Bentley wings and the BENTLEY lettering on the tailgate – becomes black, giving an intense, purposeful look.
Alternatively, the Black Specification takes this a step further: in addition to the black trim, a restyled front bumper includes a carbon fibre blade, while carbon fibre sills, a carbon fibre rear spoiler, black exhaust tailpipes and a choice of 22" wheels complete a dramatic look.

MULLINER DRIVING SPECIFICATION
The Mulliner Driving Specification – which comes as standard on Bentayga Speed – adds a sophisticated, sporting edge to the interior of your Bentayga. This includes diamond-quilted seats, sports pedals, embroidered Bentley emblems and the full choice of hide, carpet and interior colour combinations. It also adds a unique 22" 10-spoke wheel in a choice of finishes, or you can specify any Bentayga wheel of your choice.
If you would like to go one step further, the Mulliner department offers a bespoke service that helps you create a Bentley that is completely unique to you.
IMMERSIVE INTERIORS
Beautiful, handcrafted veneers, innovative technical finishes, natural leathers and detailed stitching options combine to create a space specially designed to connect you with your journey.
The standard veneer, Crown Cut Walnut, brings a contemporary feel to the cabin. There are also seven optional veneers to choose from. High-gloss carbon fibre is joined by Dark Tint Diamond Brushed Aluminium, a stunning technical finish, with a unique 3D appearance. From Burr Walnut by Mulliner to Brushed Aluminium, the surfaces inside your Bentayga can be specified to feel traditionally classic or cutting-edge contemporary – the only variables that do not change are the luxury and quality that can be felt throughout.


EMBODY YOUR STYLE
There are 15 hide colours to choose from. Five are standard on Bentayga V8, Bentayga Hybrid and new Bentayga S, while all 15 are standard on the Speed. A choice of colour splits is also available, including options exclusive to the S and the Speed.
There is a wealth of optional interior features to choose from, including a new heated, indented steering wheel.
Throughout your Bentayga's cabin, decorative contrast stitching, hand cross-stitching and embroidered emblems can all be commissioned, as can micro piping, a modern version of traditional piping that makes the ultimate craftsmanship statement.
ACCESSORIES
ACCESSORIES FOR YOUR BENTAYGA
Each accessory has been designed by the Bentley Styling Team at Crewe and complement the way you work and play. From accessories designed for specialist activities to a range of essentials to protect the car, each one is designed to enhance your driving pleasure. Explore accessories for your Bentayga on the Configurator.