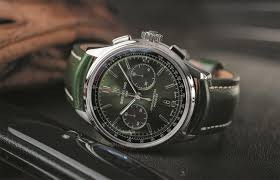 BENTLEY AND BREITLING DRIVE FORWARD INTO THE FUTURE
[vc_row][vc_column width="1/6″][/vc_column][vc_column width="2/3″][vc_column_text]
BENTLEY AND BREITLING DRIVE FORWARD INTO THE FUTURE
Trail-blazing partnership of 15 years formally renewed
Special Bentley editions to be integrated into core collection
Quality, elegance and timeless design for a discerning, modern audience
(Crewe, 23 October 2018)  Bentley is delighted to announce the renewal of its long-standing partnership with Breitling, which will see a new generation of watches which combine purpose with style, dedicated to everyday elegance.
In 2003 Breitling became the first watchmaker entrusted to design an onboard clock for Bentley's flagship model, the Continental GT.
Adrian Hallmark, who was Bentley's Board Member for Sales and Marketing when his brand signed the agree­ment with Breitling, is now the Chairman and Chief Executive of Bentley Motors. He commented: "The long-standing collaboration between Bentley and Breitling is a shining example of how, when two like-minded brands work together in an authentic way, the performance of both is enhanced.
"As we approach our centenary year, we will of course be celebrating our past, but, more importantly, we will be looking to­ward the future with a passion for innovation. It gives me great confidence to move forward with partners like Breitling who share our commitment to technolog­ical excellence, expert craftsmanship, and a pioneer­ing spirit."
[/vc_column_text][/vc_column][vc_column width="1/6″][/vc_column][/vc_row]
Back to Parent Page