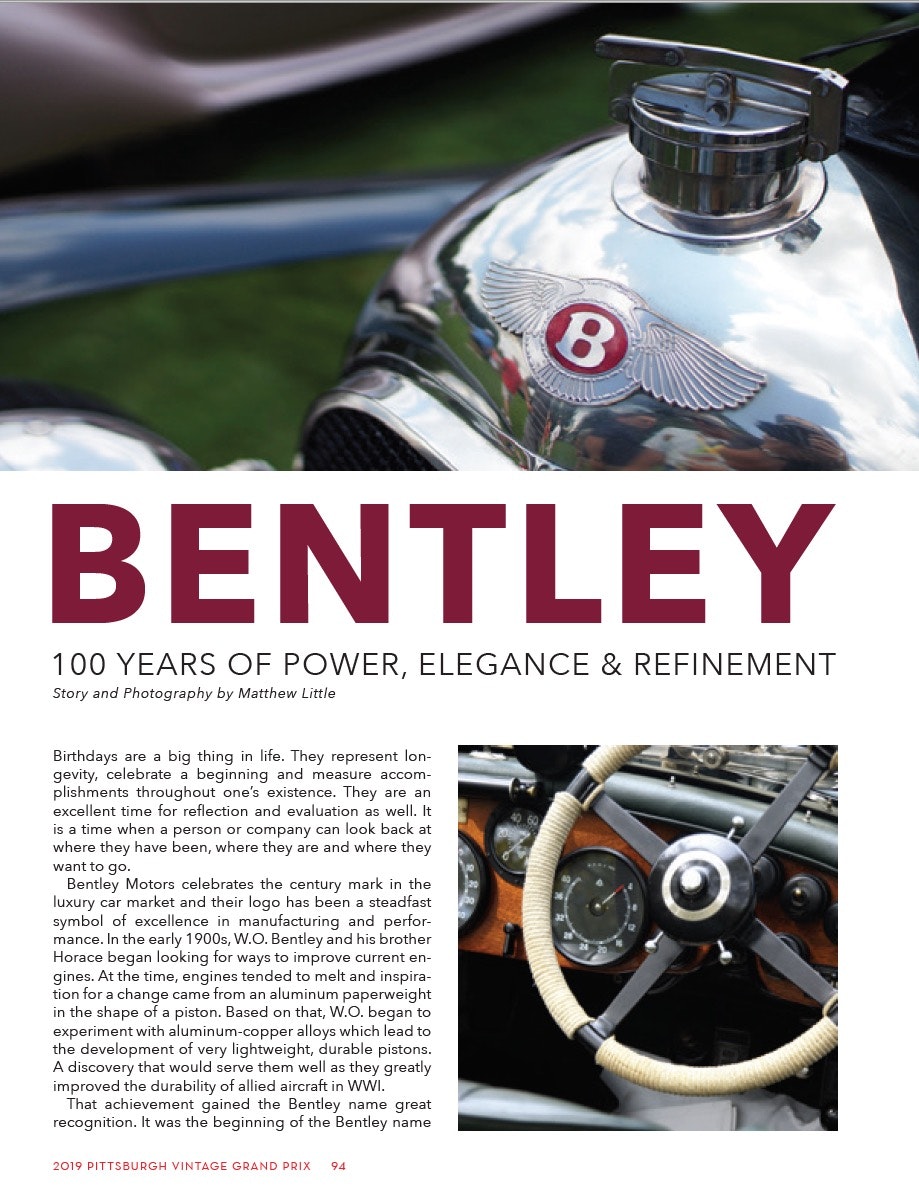 Bentley 100 Years of Power, Elegance and Refinement – Pittsburgh Vintage Grand Prix Race Program Article
This year, Bentley celebrates its 100th Birthday.  Our own Matthew Little wrote and provided the photography for this piece for the Pittsburgh Vintage Grand Prix's race program. Enjoy!
Birthdays are a big thing in life. They represent longevity, celebrate a beginning and measure accomplishments throughout one's existence. They are an excellent time for reflection and evaluation as well.  It is a time when a person or company can look back at where they have been, where they are and where they want to go.
Bentley Motors celebrates the century mark in the luxury car market and their logo has been a steadfast symbol of excellence in manufacturing and performance. In the early 1900s, W.O. Bentley and his brother Horace began looking for ways to improve current engines. At the time, engines tended to melt and inspiration for a change came from an aluminum paperweight in the shape of a piston. Based on that, W.O. began to experiment with aluminum-copper alloys which lead to the development of very lightweight, durable pistons. A discovery that would serve them well as they greatly improved the durability of allied aircraft in WWI.
That achievement gained the Bentley name great recognition. It was the beginning of the Bentley name going hand in hand with performance and reliability.
Though the company experienced much success and notoriety, The luxury car market was always a tough playing field. The company turned its first profit in 1929. The stock market crash brought everything to a screeching halt. It would prove to be another significant turning point for the young company. However, Bentley had maintained a strong tie to aeronautics. Napier had long wanted to get back into automobiles and a union with Bentley seemed the perfect way to do it. As the purchase was being hammered out, another bid for purchase was offered from an unknown individual. The new owner? Rolls-Royce, and W.O. stated that day was the worst in his life. He would be removed from his position and have nothing to do with any design or engineering decisions. The company he worked so hard to create would move forward in his absence.
After the WWII, it was determined that Bentley would be a smaller lighter car benefiting from parts sharing with Rolls-Royce. By 1965, a Bentley was virtually a Rolls-Royce. In 1998, Bentley would go under new ownership. Though not intended to come out in this fashion, VW gained ownership as BMW was outbid by a good bit. They were quick to capitalize on the situation. A new car that well supported all of the original ideals of the Bentley name, the Continental GT, sported large displacement and reliable engines producing great power and speed. It was a car W.O. himself would likely have approved of greatly.
There is nothing the company won't provide when it comes to customization of their cars. They continue to be the pinnacle of luxury and exclusivity in the automotive world and a source of dreams and aspirations. Here's to another 100 years of great success and innovation. Bentley will be a great name for years to come.
Back to Parent Page